Looking for the best couple captions for Instagram? Here we have curated 80 lists of captions for couples so that you can use them for your favorite photos.
You can use these beautiful couple captions to express your feeling in words.
We have divided the captions into various categories: Cute Couple Captions, Funny, Romantic, Cultural Based Quotes for Couple &  more.
Why To Use Caption For Couple Photos
To make things official, to express your feelings in words, to show the world how much you love your partner, and there are more such reasons to use the captions for couple photos. 
We all try to keep things secret about our romantic life, but when it comes to telling the world about your special one, you can not miss any chances to make your partner feel special.
Therefore, to make things official or to let others know about your partner and romantic life, you would like to use perfect couple quotes. 
Hence, here are the 80 Instagram Captions for Your Favorite couple of Photos.
Romantic Quotes for Couple Captions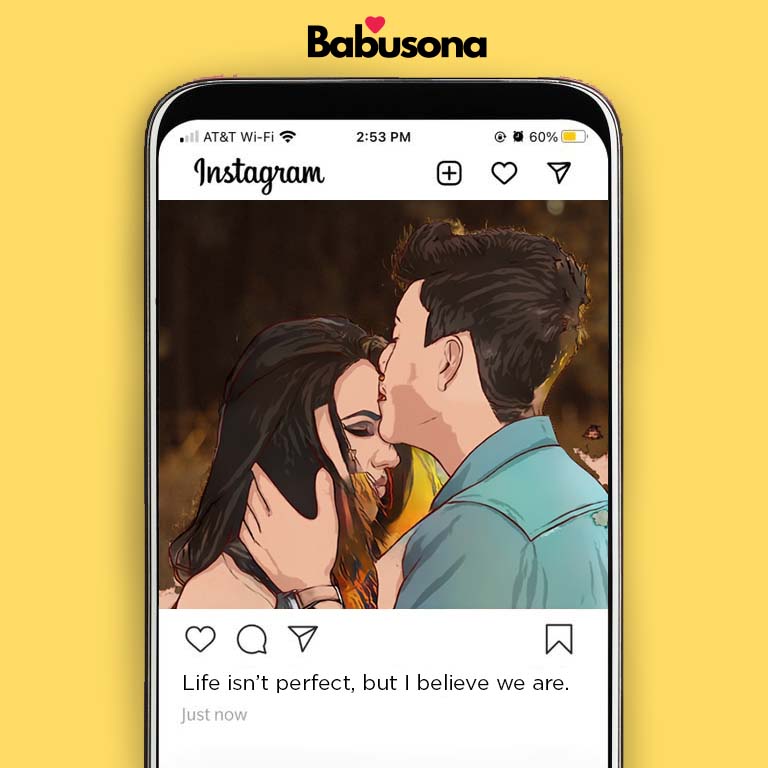 1. You might have thought,'' Why do I love you? I love you because of your eyes, your smile, and how good & a kind human you are.
2. You stole my heart, and you can always keep it with you.
3. I will never be tired of telling you this: the Best thing that ever happened to me is you.
4. Whenever I thank the universe for whatever I have, you are the one that comes first in my mind.
5. Life isn't perfect, but I believe we are.
6. I'm the luckiest & I feel it because of you.
7. Your Voice meltdown my heart.
8. You're the kindest I have ever met.
9. I wasn't ready to fall in love, but you made me
10. I see certain changes in me whenever I am with you.
11. I will not say you made me complete because without you I don't even feel alive.
12. Finally, I met the one who used to come in my dream every single night
13. You haven't found me, I asked you from the god.
14. The greatest gesture I have experienced is hugging you.
15. You are my favorite cologne & that's why I want to wear you always.
16. The most important thing in life is to learn how to give out love, and I have learned this from you.
17. To enjoy my life to the fullest I share my joy with you.
18. Do you know [@userId]? I love you a lot.
19. I feel alive when I stay near you.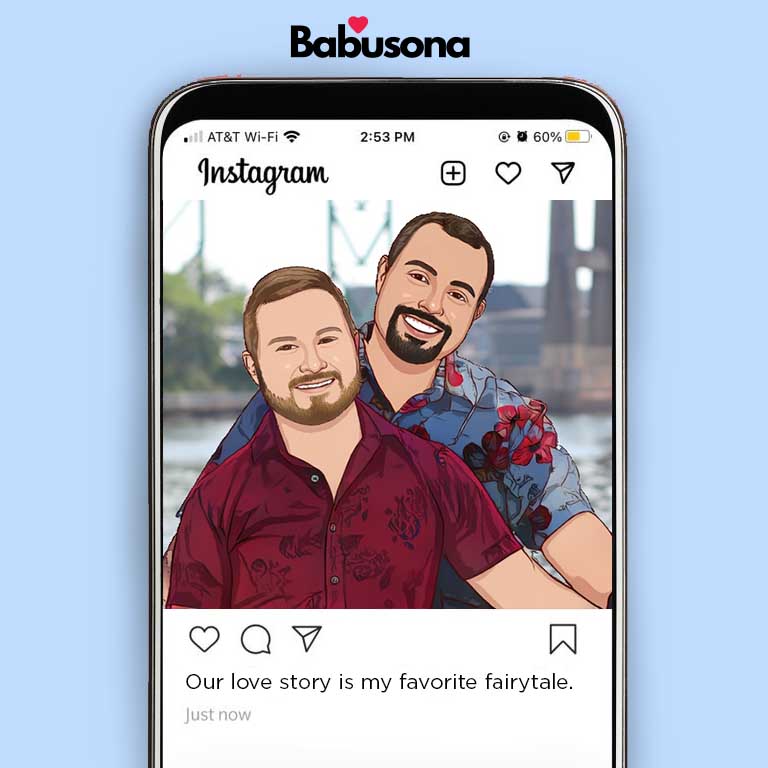 20. 

I'm wearing the smile you have given me since we met.
21. 

I used to not believe in couple of goals, but now I want to finish them ASAP.
22. 

You're my favorite hello & that's why it is easier to say hello to you. But you are my hardest goodbye which I never want to tell you.
23. 

I can't live without you, and you know what, I don't want to try.
24. 

Our love story is my favorite fairytale.
25. 

Home is wherever I'm with you.
26. 

Every day with you is the best day I deserve in my life.
27. 

I feel extreme comfort & peace whenever I'm with you.
28. 

Note:- I love you ❤️.
29. 

I don't need someone in my life because I already have you.
30. 

Nothing can drive me crazy but your smell…
31. 

We met quite late, but I promise, I will stay at last.
32. 

How lucky I am, out of billion people my eyes stumbled on you.
33. 

Every single text of yours makes me feel refreshed and awake.
34. 

I don't understand the love language, but your eyes tell me everything.
35. 

The first kiss we ever did is the best I ever got.
36. 

The nickname you gave me is the best name I can be called.
37. 

You know all about me & this is what You don't know about me.
38. 

Every single line of a word makes me think of you.
39. 

I fell for you, like rain.
40. 

I know I'm not your first love, but I do hope that I'm your last.
41. 

A true love story never has an ending & good thing is that our love story has just started.
42. 

Whenever I touch you, I feel the same spark as it was for the first time.
43. 

I'm very thankful to the universe they managed our meetings.
44. You gave me the life I always wanted to have But never thought it will be happening so early.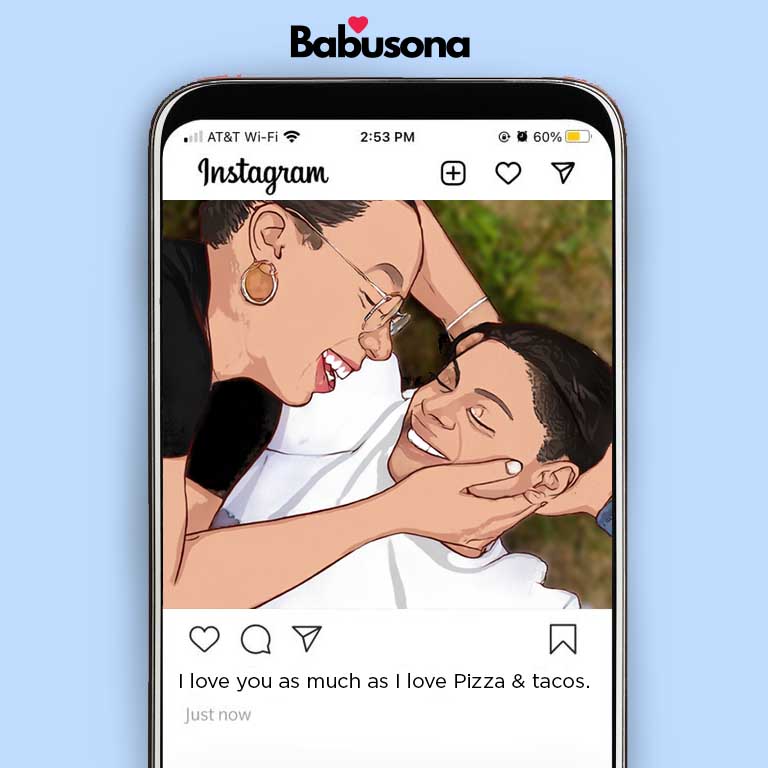 45. 

I love you as much as I love Pizza & tacos.
46. 

We are like two peas in a pod.
47. 

You are the only person who likes food as much as me.
48. 

Talking to you like taking caffeine: feels refreshed and awake.
49. 

I never feel more alone than being far from you.
50. 

Be calm and give me a kiss now.
51. 

I love you with all my butt. I would like to say heart, but my butt is bigger.
52. 

Pretty glad we both looked at each other.
53. The only time I stop talking is while kissing you.
54. 

My heart stops beating when you hold my hand.
55. 

I love being distracted by you because of your army's favorite distraction.
56. 

I avoid sweets because your voice full fill my daily sweetness requirement.
57. You're the maple syrup to my pancakes.
58. 

Let's cuddle so that we can share our body heat together.
Caption For Couple Picture
59. 

We both are not perfect and this is what makes our relationship the best.
60. 

Our picture says a lot about how well we are.
61. 

Not to brag but we look the best in it.
62. 

One smile can't change the whole world, but your smile changes my world.
63. 

We're our own kind of awkward.
64. 

Do you know? We both are strong but together we are stronger.
65. 

We talk, smile, & fight and this is essential ingredients of our perfect relationship.
66. 

The last time we met was the best time I have spent in my life.
67. 

Let's stay together always.
68. 

This post has only one purpose that is to tell you (@userId) thank you for accepting me for whom I am.
69. 

Since we met, we both transformed.
70. 

We dreamed it once and today it is our reality.
71. 

Our love journey began when we met for the first time.
72. 

Your lack of presence is something that hurts a lot.
73. Whatever our souls are made of, we both have the same.
74. I knew it, someday like you will come in my life to give me the love I want.
75. They say we are a perfect couple, but I think we are in the journey of it.
76. 

I am yours since the moment I saw you.
77. 

They say marry a person you can't live without, so I chose you.
78. 

With you the darkness seems lighter.
79. 

Your hug is my favorite place to be in.
80. 

I don't need to promise of the moon and the stars, just promise me you will stand under them with me forever